It's no secret, golf courses have been busy this summer! Speak to anyone in the industry and they will tell you that tee-sheets are full and there are more people enjoying the game than they have ever seen. Recently, this observation was confirmed when the National Golf Course Owners Association of Canada (NGCOA) released data about the number of rounds played in Canada this year. As expected, most courses saw a significant drop in March, April and early May, but the bounce back in June, July and August has more than made up for the missing rounds in the Spring. The net result? Golf course rounds have increased by 11.5% year-to-date across the country. In fact, the growth of the game this summer is so strong that many courses are on pace to set records for both the number of rounds played and revenue.
In British Columbia, this increase has been even more pronounced, with year-to-date increases of nearly 17%. Golf facilities from every region in the province have reported significant gains, especially in July, August and September, as people searched for a responsible and safe activity to enjoy with friends and family.
Highlighted Statistics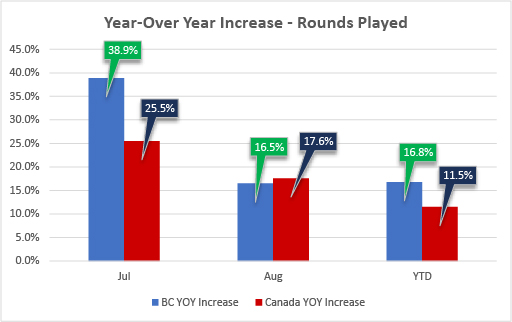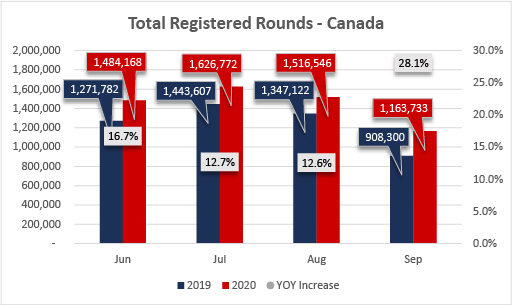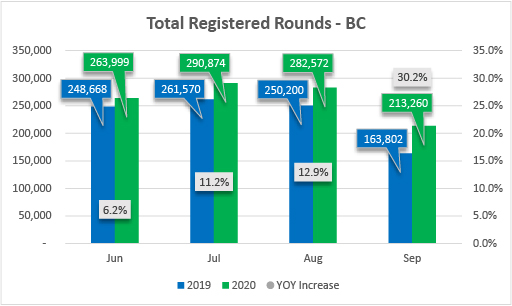 Comparison to South of the Border –
USGA Also Reports Significant Increases in Rounds Played
The Canadian golf and travel industries, in particular, rely on the U.S. market as a significant source of clientele – With the border closed and the United States hit hard by the pandemic, many industry professionals are keeping a close eye on developments to help forecast for 2021 and beyond. Fortunately, signs are pointing to a growth pattern that parallels Canada in the United States, as is evidenced by reports from the USGA who also reported that golf rounds are up significantly in June, July and August.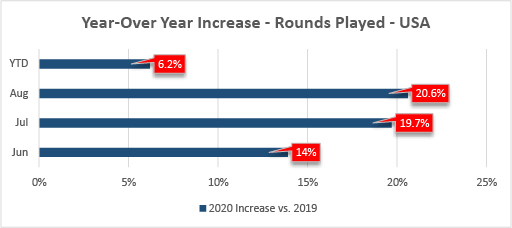 Golf Courses and Regional Associations Adapt to Increased Demand
The increase has been felt at all levels and across all regions of the province. A sampling of course data from around the province showcases that the breadth of growth isn't limited to certain areas:
Highland Pacific – Rounds up by 27% May-Sept vs 2019.
Whistler Courses – Rounds booked at individual courses up 6-13% in July & 9-10% in Aug vs 2019.
Columbia Valley – July up 22.3%, August up 20.8%, Sept up 55.0% vs 2019.
Regional organizations are also experiencing similar increases in interest and rounds booked through centralized channels:
Golf Vancouver Island – Late season package requests up 700% (last 30 days)
Tourism Kamloops – Q3 rounds booked through Golf Kamloops up 103% compared to last year
While the rise in demand for golf is easy to identify, determining the source of the increase is a little more challenging, especially because the vast majority of golf play was by B.C. residents. Ro Davies from the Whistler Golf Club attributed growth in the game to a variety of factors:
"BC residents increased in number of rounds as a combination of many factors (more time, not leaving BC, golf being viewed as a relatively "safe" activity)," said Davies. "All in all, we have ended up with a similar number of overall rounds, although a very different mix than year's past."

Ro Davies, Sales Manager, Whistler Golf Club
---
The change in mix and increase in rounds came as a bit of a surprise to many courses. The challenge of rapidly ramping up capacity combined with implementing COVID-19 safety protocols and taking responsibility for ensuring the safety of guests put a strain on operators. Resources, like the AGA of BC's COVID-19 Best Practices for Responsible Operation of BC Golf Courses, evolved and allowed courses to share information quickly, but one area that is often overlooked is the contribution of the superintendents, crews, golf professionals and staff that invented novel solutions to help keep players safe and ensure that the industry did not contribute to the spread of COVID-19, despite the increase in play. The strong and innovative network of golf course superintendents, golf course professionals, club managers, owners and staff in British Columbia managed to maintain spectacular conditions all across the province despite full tee-sheets and still prioritize the guest experience as top priority. This is yet another factor that reinforced the increase in play – positive experiences lead to repeat visits.
Despite all of the headwinds, British Columbia's golf industry set the stage and delivered a great performance. Combined efforts have positioned the industry to capitalize on the summer's spike in interest and translate it into lasting gains. Laurence Applebaum, CEO of Golf Canada, summed it up well:
"We're going to look back on 2020 and say 'amongst all challenges, amongst a lot of really difficult situations for so many people, golf was a bright light that we built from,"' said Applebaum. "I feel really lucky, I feel quite fortunate to be a part of that movement."

Laurence Applebaum, CEO of Golf Canada
---
Television Ratings Indicate a Lasting Increase… With a Caveat
As we transition into the fall and off-season, industry professionals are trying to forecast whether the growth of this past summer will last and whether it is sustainable. One potential way to gauge whether the increase in rounds played will continue into 2021 could be television ratings. While there are confounding factors to take into account, an increase in viewership could reinforce the signals coming from the increase in rounds played and equipment sales. So how are broadcasts faring?
PGA Championship, Aug 6-9, Average Viewership:
5.153 million viewers (a 3% increase over last year's tournament)

Tour Championship, Sep 4-7, Average Viewership:
2.00 million viewers (the second largest audience in 20 years)

US Open, Sep 17-20, Average Viewership:
3.21 million viewers (down 56% and the lowest ever for the tournament)
Why were the figures for the U.S. Open so much lower, especially in light of the success of the other two premiere tournaments? Many experts point to the fact that it had to compete with NFL Football. The fact that the gains did not hold up when there was another game in town raises an interesting question for the golf industry – will the gains of Summer 2020 be sustainable once other activity options are once again available.
The figures to watch will be the ratings from the upcoming Masters in November. Never has the tournament at Augusta National been up against the behemoth of the sporting world, the NFL. If what is arguably the most popular major tournament doesn't perform well when pitted against Sunday NFL coverage, it may hint that golf was just filling a gap for many people and they will return to their previous activities when it is safe to do so.
Equipment Sales Hint that Growth May Persist
Another major bellwether for the continuation of growth in the game is the jump in equipment and apparel sales. New golfers have been taking up the game, players who have been away for a number of years are upgrading equipment, and avid players are investing in new equipment and replacing worn-out goods.
While Canadian sales data is harder to come by, anecdotal sales increases can be supported by the recent upward revision to global golf equipment and apparel sales forecasts. Original estimates for worldwide equipment sales, which were forecast to be $8.5 billion in 2020, were revised upwards to $9 billion in an August report.
One way we can estimate the impact on Canadian sales is to correlate them to sales south of the border. Historically, equipment sales in Canada have aligned with sales in the United States.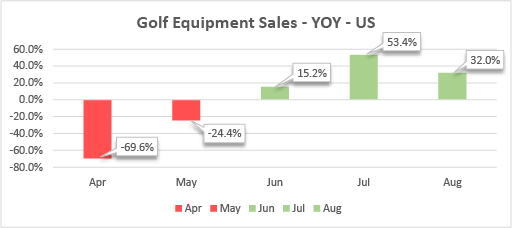 Case Study – Dick's Sporting Goods & Golf Galaxy
One major retailer, Dick's Sporting Goods, reported a 20.7% year-over-year increase in in-store golf apparel and equipment sales for Q2, 2020 despite 15% of its stores being closed. Coupling that with a staggering 194% increase in online sales and it amounts to a substantial increase in sales despite closures and restrictions. Expanding the focus beyond Q2, expectations for Q3 figures are high and analysts are predicting records to be broken when data is reported.
It is worth noting that sales data and figures from large retailers and online golf stores may not directly correspond to parallel increases for proshops and independent retailers. However, if the upward revisions to global sales and record sales figures for major players are taken as an indicator for wider-ranging growth in sales and rounds played, it provides another data point showing that the industry is in a position to maintain the gains of Summer 2021.
Shifting back to a facility level view, golf courses are rapidly realigning and coming up with novel ways to capitalize on the surge in popularity. Filling in lost event and food and beverage revenues is a big task, but by focusing on retail sales and lessons, it is helping to lay additional groundwork for continued growth and success. As Jeff Palmer, General Manager of Highland Pacific Golf in Victoria, put it:
"We have also seen our numbers improve drastically in retail in food and beverage between June (when we opened our clubhouse) and September. Although the banquet and catering business is down, we are making it up in different areas. For instance, we have converted our banquet room into an indoor teaching and simulation studio. Academy and club sales are 60% up over last year."

Jeff Palmer, General Manager, Highland Pacific Golf
---
What Does the Increase in Play Mean… Long-Term?
Nobody really knows how the uptick in golf play will affect the industry over the long-term because much depends on the course of the virus. If restrictions on other activities persist into 2021, golf is positioned to remain an attractive, physically distant option. If we start to emerge from the pandemic, golfers may continue to hit the course in record numbers either because they invested in new equipment and/or have an enhanced commitment to the game as a result of their positive experiences with golf this summer.
Lisa White, of Tourism Kamloops, reflected upon the tumultuous 2020 season and offered a fitting summary of the positive figures gleaned from a challenging year:
"In April 2020, when the world was at a standstill, we never would have guessed that golf sales would deliver record numbers for the year. In a time when people where asked to keep their bubbles small and stay close to home, golf offered a reprieve and a sense of normalcy," said White. "Looking ahead, we have indications that golf sales will sustain and continue to grow and we are ready!"

Lisa White, Industry Relations & Communications Specialist, Tourism Kamloops
---
The impact of this past season's roller-coaster ride is hard to predict and/or control, but if the British Columbia Golf Industry continues to focus on providing a positive experience for new and returning golfers alike, the stage is set for continued growth in 2021 and beyond.