As anyone who got out to golf this year likely experienced, golf was a hot commodity when it came to staying busy and getting out into wide-open spaces during the COVID-19 pandemic and tee times became coveted across the country. Data recently released from the National Golf Course Owners Association backs the anecdotal evidence with an 18.9% increase in rounds played in Canada and BC continuing to outpace the nation with a year-to-date increase of 23.2% to the end of October 2020 and continuing to climb as Lower Mainlanders and Vancouver Islanders are still playing golf!
Rounds up Double Digits
Nationally, rounds across Canada were up 61.8% in October for 18.9% year to date. When comparing to the 5-year average, rounds were up 17.8% further reinforcing the success golf experienced during the 2020 season.
While 18.9% annual growth is impressive in and of itself, it is even more impressive when one considers that rounds were down 25.9% at the end of May. With rounds growth from June through October, supported by fantastic weather enabling season extensions, the Canadian Golf Industry recouped the first five-month deficit and catapulted the industry forward 18.9%!
British Columbia golf rounds played increased by 57.4% in October and 23.2% year to date, beating the 5-year average, and leading the country slightly ahead of Alberta and Atlantic Canada.

Revenue
Golf course revenue follows a similar suit as round growth, showing that golfers are not only golfing more but also spending more (i.e. beverages and snacks). National data shows a revenue increase of 49.9% for the month of October (compared to 2019) and 28.6% year to date, but transactions increased a whopping 87.4% for October as well.
In British Columbia, revenues increased 45.8% in October (over 2019) and 16.6% year to date.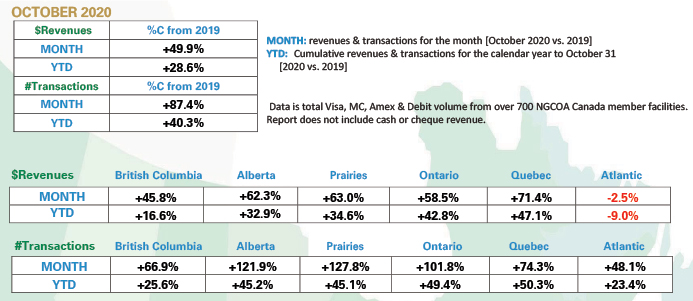 Looking Ahead to 2021
With new golfers to the game, equipment sales up significantly over the past summer, some sport and travel restrictions likely in place for a while, and continued implementation of COVID-19 protection protocols and ensuring golfers are offered an enjoyable experience during their visit, British Columbia golf courses can look forward to another busy season in 2021.