As published by the Western Canadian Turfgrass Association
September 23, 2019
prepared by Jerry Rousseau
In many ways, proposed amendments to the OH&S regulation requiring ROPS on golf carts is one of the most tangled issues I've worked on. Prior to the end of the industry consultation period last October, there was very little warning of WorksafeBC's proposed changes, not to mention the regulation is extremely complicated.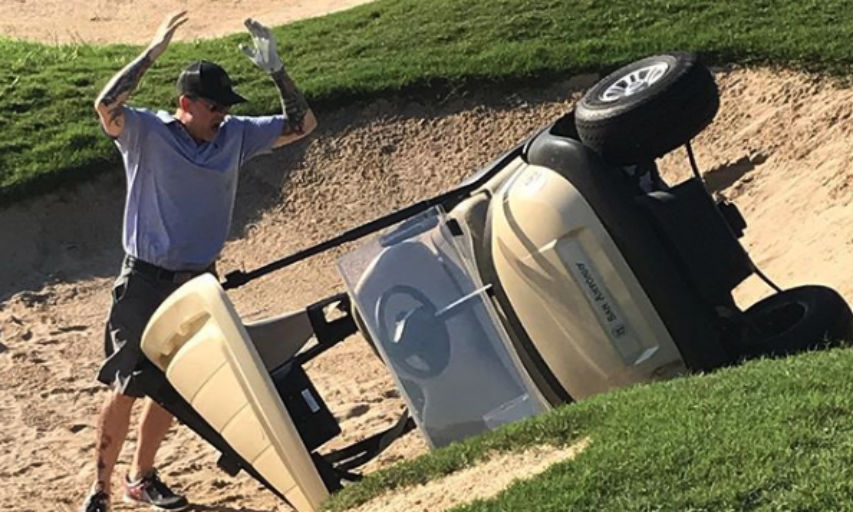 Interpreting the 45 page document, packed with new definitions, chronic circular references and ambiguity contrasted by hyper-detail, has been challenging. When reviewing proposed new rules, it's been important to keep in mind the regulation oversees worker safety across all industries in the province, not just golf.
The WCTA has taken a lead role, working on the ROPS issue independently and through the Allied Golf Association of BC. A working group consisting of Andy Hedley of GolfBC, Trevor Smith, AGA-BC President, and myself met with WorkSafeBC policy analysts in person this past June; our goal was to review and thoroughly understand implications to the golf industry so that an advocacy strategy could be developed.
We put forward a lot of questions:
• What's driving proposed changes?
• Have there been issues with worker safety on golf courses related to golf carts?
• Are there any statistics or data you can share?
• Is golf being captured inadvertently?
• Is there precedent for this regulation as it applies to golf carts in any other jurisdiction?
• Could a corporate event waiver be created so that corporate tournament participants are exempt from the WorkSafeBC requirements?
And several industry concerns/comments:
• proposed amendments create a tremendous and potentially overwhelming economic hardship to BC golf course operators;
• injury statistics are misleading as they capture all industries;
• lack of precedent in any other jurisdiction at this time;
• proposed amendments exceed current engineering / availability;
• potential for individual WorkSafe officer interpretation creating un-even playing field;
• enforcement improbable;
• other implications, ie. training, supervision, lights, fire extinguishers, hard hats, etc.
• any perceived risk to golf course employees and/or non-golf course employees considered to be at work while playing golf can be better addressed through management.
Recently, a flurry of media coverage ensued after release of an opposition MLA letter to BC Tourism Minister Lisa Beare supporting golf industry concerns. Shortly after, the first mainstream print article appeared, written by Black Press's political columnist, Tom Fletcher and titled 'Seat belt requirement a double bogey, B.C. golf industry says'. Picked up by Global News several days later, video journalist Kylie Stanton presented a piece called, 'A very stupid idea: Industry slams proposed golf cart seat belt rules', run as a live segment on September 4th and 5th.
Initial media coverage implied WorkSafeBC would rescind its proposal to make rollover protection mandatory on golf carts while the Global segment quotes WorkSafeBC spokesperson Ralph Eastman saying, "Based on stakeholder feedback, WorkSafeBC intends to limit the proposed changes to golf-course workers only, and workers in other industries where golf carts may be used. The proposed changes would not affect the public or golfers."
It goes on to say "There are indications that WorkSafeBC is backing down from proposed new regulations B.C.'s golf courses say would have been disastrous," however neither the WCTA nor the Allied Golf Association of BC has received confirmation from WorkSafe that the issue is dead. Rather, the two groups were told that feedback would be considered and if there was "more than a tweak to the proposed amendments," another round of industry and public consultation would be required before going to the WorkSafe Board of Directors for a final decision.
Further thoughts:
• There is a lot more lobbying in front of us. While opposition party support is helpful and I'm glad the WCTA's work on this issue was put to good use, the golf industry needs written confirmation from either the Minister or WorkSafeBC or both, that golf carts will be exempt from any ROPS requirement.
• Media coverage is a mixed blessing in that it generates awareness but the 'stupid idea' segment may not bode well for our continued discussions with WorkSafe. Down the road we will be dealing with hardhats, steel toe boots or some other issue so it's probably a good idea to keep things cordial.
• Troubling me most is WorkSafe's comments, along with those from the BC Labour Minister Harry Bains, focusing on worker safety, ie. the new rules won't affect golfers. But considering that all golf carts, at some point, are serviced, washed, parked, shunted, fueled and stored by workers, mandatory ROPS and seatbelts required for employee protection will mean ROPS on all golf carts and will therefore capture golfers consequently.
Another meeting with WorkSafeBC representatives is being scheduled for 2nd week of October. We will continue providing updates and perspective on this important issue. Questions or comments can be sent to me at exec.director@wctaturf.com.