by Kris Jonasson
The Columbia Valley, Kootenays (East and West), South Okanagan, Okanagan, Shuswap, Kamloops, Lower Mainland, Whistler and Vancouver Island have a lot in common. World class golf, outstanding scenery and great accommodations make British Columbia a great golf destination in North America.
The International Association of Golf Tour Operators (IAGTO) named British Columbia the top undiscovered golf destination in the world (2004) and then in 2007 named BC the top golf destination in North America. Regrettably, the economic downturn in 2008 resulted in tighter operating margins and the resulting cutbacks in marketing dollars would not allow British Columbia to fully capitalize on these prestigious designations.
It is well understood that the most effective method of advertising is personal endorsements and effective "word of mouth" campaigns. The trick is to start a conversation.
Beginning in the fall of of 2016, golfers in BC will have an easy method to start that conversation and the opportunity to extoll the virtues of golf in their region. This will be done by attaching a golf-themed license plate to their vehicle. This simple addition identifies the owner as a golfer, starting the conversation; Where do you play and why?
Golfers travel, so the plates will become rolling billboards. Golf facilities can support the program by providing custom made plate protectors. These custom protectors can identify the facility and invite a visit as a call to action.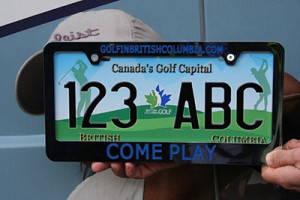 Children and grandchildren of golfers will have an easy choice for a gift as the plate will be well received at Christmas, birthdays or other celebrations. British Columbia Golf, in partnership with the Allied Golf Association, has been working with government and ICBC for many years to launch this type of affinity plate program. The program will be similar to what is currently in place for "veteran plates" and which was in place for the Olympics.
The enabling legislation will be introduced late this spring or early in the fall sitting of the legislature. ICBC will have the logistics of plate distribution and registration in the fall of 2016.
Government has been assured any revenue stream that comes from this program will be equally split in funding programs to gets kids physically active through golf and providing marketing funds promoting British Columbia as a golf destination.
There is no approved design for a plate but the accompanying pictures show Matthew Steinbach, Manager, Golf Participation holding a prototype design of both the plate and plate protector. Stay tuned for updates on this exciting initiative.