VICTORIA – Government is cutting red tape around licensing, making it easier and more cost-effective for golf courses and ski hills to expand their liquor licence areas, as a new batch of Liquor Policy Review updates is rolled out.
Made in direct response to feedback heard during the Liquor Policy Review, ski hills and golf courses can apply, starting on Dec. 9, for a single licence endorsement that covers up to 26 events in a calendar year, rather than having to apply and pay separately for each extension.
Businesses were previously burdened making one-off, temporary changes – at a cost of $330 each time, with a maximum of six per year – whenever they wanted to expand their licensed area for an event, such as a putting green area during a golf tournament, or adding an area at a terrain park during a ski or snowboard festival. The updated licence endorsement will encourage ski hills and golf courses to offer more events, weddings, and other tourism opportunities throughout B.C.
Another change in the works – liquor-primary establishments will soon be able to offer more all-ages events, such as concerts and dances, effective Dec. 9. The licence amendment fees will be eliminated and the approval process will be streamlined for applicants – cutting additional red tape for small businesses.
For both of these changes, to help ensure public safety is maintained – all events will continue to be flagged, using a simple online notification application, for the Liquor Control and Licensing Branch, which may levy penalties for non-compliance.
To support convenience and transparency for applicants, and help as they undertake licence approval processes, government has also canvassed municipalities and First Nations, encouraging them to post the anticipated wait times for liquor-related application input on their websites.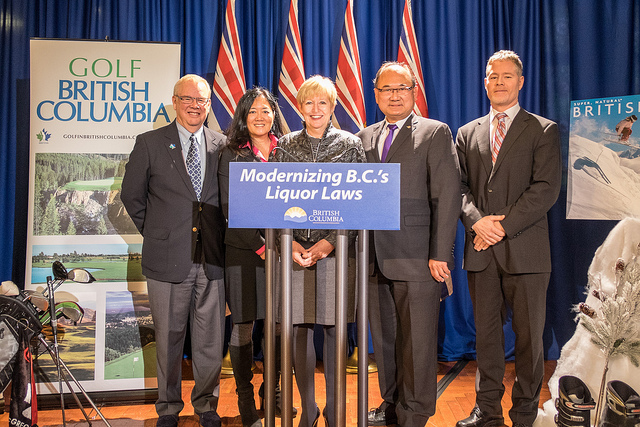 Kris Jonasson, Executive Director, BC Golf Association
"It's great to see the government really working hard to cut red tape for small business and tourism operations in the province. Golf courses throughout B.C. extend their licensed areas quite often for our customers, to host weddings and for large gatherings. This change will be a great relief for many. The time, money and effort that currently go into the application process can now be used more effectively, and we think it is a great move."